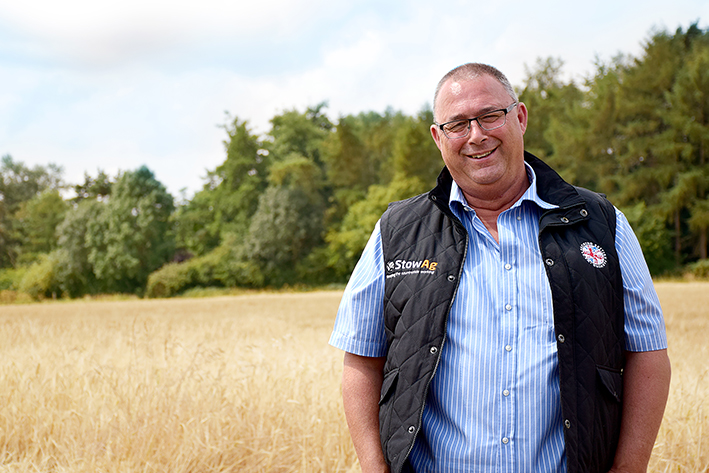 Steve Simpkins is our local rep who mainly covers the Worcestershire and Herefordshire area.
Steve is a qualified SQP and has been in agri sales for over 30 years. He can help with all aspects of Livestock farming, animal health and fencing, dealing with all types of farms from estate farms to family farms and small-holders.
Phone: 07741 870 758
Email: steve.simpkins@stowag.com
About Steve:
Over the years I have seen a massive decline in Family Farms, Especially the dairy section. There are lots of reasons for this, milk quotas, prices, rules and regulations especially around Hygiene cell counts and bactoscans. The cow numbers have not so much diminished as the big dairy farms have got bigger and family farms that are left have expanded and modernised to try and keep up. To this day, I still like to deal with the family farms, its usually the sons and daughters now taking over from their parents and it feels great to feel part of their routine and lives as I did dealing with their parents over the years.
I have been in agri sales for over 30years now. My early days in sales was with the dairy industry mostly on dairy hygiene and milking machine equipment. In later years I have become involved with all aspects of Livestock farming dealing with all types of farms from estate farms to family farms and small-holders; Selling an immense range of products from Livestock equipment, animal health, dairy hygiene and feed, in addition to grass seeds and fertilisers etc.
Working at StowAG:
Working for StowAg gives me everything I need to make my role as a sales rep satisfying and confident. It is wonderful to know we are able to stock almost everything and such a vast range of products all covering what our customer needs and the reassurance it will be delivered on time.
I am tremendously impressed with the "Yes we can attitude" of my work colleagues in this amazing vibrant environment. The incredible togetherness of all the departments from the internal sales team right through to every department. StowAg's culture is something I have never experienced before and I feel proud to be part of this. I am also looking forward to promoting other parts of StowAg business group such as the Ecology supplies – Wildcare. In my daily routine, I have already had enquires for the Wildcare team (Customer was very impressed with Wildcare Brochure sent out) and for Jeremy's projects and installations service.
What makes it worth it?
Even though I have been in the industry for several years now, I still get a great buzz from going up and down farm drives visiting customers of all types. Whether they are existing or potential customers and making new relationships.
In my opinion, every customer is a good customer. In this environment, it is all about building relationships, understanding what as a customer you are trying to achieve and being part of your journey on the farm. This relationship can last for many years and is very satisfying and important to me.
What do you do outside of StowAg?
These days my free time is spent with my wife relaxing more in our garden. My children are grown up and have fled the nest. We like visiting friends and eating out and the odd glass of red wine (or two). We are planning in the next couple of years a visit to Australia to see our daughter who emigrated earlier this year. Our son announced he is going to be a father in December so we will, of course, be grandparents.
That's our free time gone then. I enjoy football and cricket (More Watching than playing) I was for a number of years a Chairman for a local charity and I was a Parish Councillor for a few years. In more recent times I was a member of Hereford Grass land society and I may re-join again this year.
Meet more of the stowag local reps:
Want to get to know our other local reps? Click below to find out more: