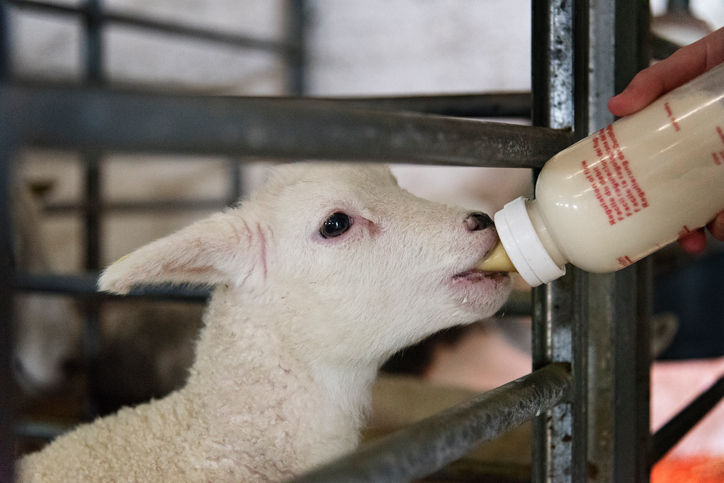 Choosing the right milk replacer, when and how much to feed are frequent questions when it comes to feeding milk replacer for lambs and can often be the key to raising healthy profitable lambs.
During lambing, it is important to monitor your flock to identify any risks of starvation as early as possible.
Factors to look out for include:
Inadequate intake of colostrum,
Rejection from the ewe,
Insufficient milk production,
Triplets,
Injury,
Illness, and/or
A difficult birth
Our tips for feeding lamb milk replacer?
Approximately 50% of lamb deaths occur within the first 24hrs and a further 41% in lambs up to 7 days of age, making it crucial at this time to ensure lambs are feeding well.
It is vital to ensure that lambs are feeding within the first couple of hours after birth otherwise they will rapidly begin to lose energy reserves.
Milk replacer can be fed to lambs at around a day old.
It is important to colostrum is given to the lamb as soon as possible, within 6rs after birth.
Continuing to feed the lamb colostrum for the next 24hrs will give your stock the best growth advantage.
Can I feed lambs Ad-lib Milk?
Lambs can achieve live weight gains of 300g per day on a cold ad-lib system and can be finished at 100 days on ad-lib concentrates making it often a popular choice. The suggested method is to use a bucket and two teat lines for small quantities throughout the day.
What Milk Replacer can I feed for best results?
Normally orphan lambs are reared on milk replacer made with dried cow's milk but now farmers have a choice as EWE-REKA Lamb milk is made with ewe milk.
Sourced from ewes milked to produce Roquefort and Bleu d'Auvergne cheeses in France it is then carefully dried to maximise the digestibility of the protein and to protect the antibodies in the milk.
The improved flavour and natural antibodies have been shown in the right formula to improve lamb growth rates.
In trials carried out with the National Animal Research Institute in France (INRA) the inclusion of ewe milk was compared to standard lamb milk alongside a range of acids, essential oil and colostrum powders and was found to consistently produce better lambs with lower mortality.
Why ewe milk?
Ewe milk is nearly twice as high in protein as cow's milk and the amino acid profile is different. This means lambs get less digestible protein when fed cow's milk and they don't utilize the digestible cow's milk as efficiently.
Ewe milk also contains a different range of fatty acids and is 50% higher in minerals and trace elements.
Providing lambs with ewe's milk encourages intake and as lambs can increase their body weight by 5-8% day they require higher mineral and trace element levels to support this growth.
Ewe milk is 25-50% higher in all vitamins to ensure lambs are not compromised during the 1st weeks of life, essential for maintaining health, digestion and the movement of oxygen around the body.
The antibodies in the ewe milk will also line the ever-changing gut wall to reduce the chance of pathogens invading the gut cell wall and causing disease.
Easy to mix Lamb Force lamb milk is also made with 4 oils to maximise digestibility.
It can be fed warm or cold with bottles or tub or machine adlib feeders.
Shine Ewe Reka lamb milk powder is available to buy here in 20kg bags or give us a call if you would like to order 10kg bags or if you would like any more information.