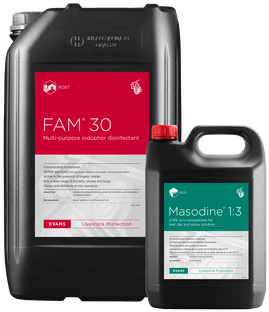 "Leaders in industrial hygiene and livestock protection"
Evans manufactures a diverse range of livestock protection chemicals for poultry, pig and dairy producers. It is a world-leading manufacturer of dairy teat dips and animal disinfectants and its products have been extensively tested against all the major virus and disease-causing microorganisms which affect livestock. FAM 30, developed to treat Foot and Mouth disease during the 1967/68 epidemic, is still considered to be the finest disinfectant of its type in the world.
Evans has built a reputation on innovation and commitment to research and development. In-house microbiologists and chemists enable us to deliver quality and consistency at every stage of production and the company has achieved ISO 9001 and ISO 14001. Our microbiology laboratory holds UKAS accreditation for the testing of disinfectants, ensuring products are fit for purpose and that virucidal and bactericidal claims are substantiated by BS EN test methods.
In addition to its products, Evans also provides a variety of training and technical manuals and shares information and international expertise with its distributors and customers, ensuring the most up to date and efficient methods of cleaning and disinfection are being used throughout the livestock industry.