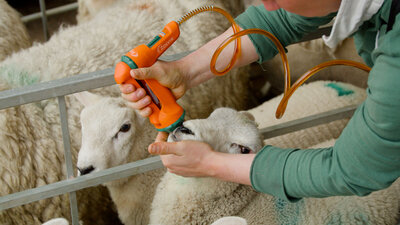 "Realise your lambs' growth potential now"
Zolvix™ oral solution is a broad spectrum anthelmintic for the treatment and control of gastrointestinal nematode infections and associated diseases in sheep, including lambs, hoggets, breeding rams and ewes.
Kills all economically significant gut worms, even worms resistant to 1-BZ, 2-LV and 3-ML wormers.
Can be used as a routine farm protection (quarantine) dose to clean out incoming stock and protect your farm from resistant worms.
Recommended as a one-off mid-late season break dose for all lambs to remove worm burdens including any resistant worms. Removing the accumulated resistant worms at this time will allow the lambs to achieve their growth potential and make the most of the late season grass.
All farms should use once a year to help slow down resistance and preserve the older groups (1,2 and 3)
Group 4-AD wormer (contains monepantel).

We've worked with Elanco to inform you on the dangers of worm infections and not taking the necessary precautions. Read our latest blog "when to worm your sheep" to find out more information about worm infections and Zolvix.