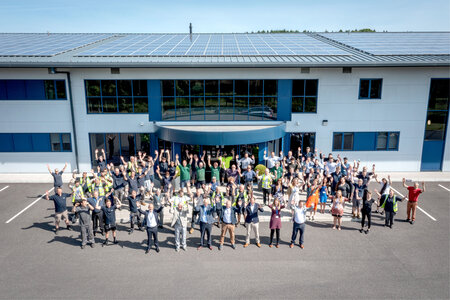 EXPERTS IN CLEANING EQUIPMENT SINCE 1922
Hillbrush is recognised throughout the world for its British brush making and manufacturing expertise. Our wealth of industry knowledge and experience means we deliver the highest quality products, underpinned by excellent customer service. Our roots lie in crafting traditional wooden brushes, and we are extremely proud to hold a Royal Warrant for the supply of brushware to HM The Queen.
HILLBRUSH SUSTAINABILITY COMMITMENT
As a business, Hillbrush understand the need to be socially and environmentally responsible and have made huge inroads into developing and implementing sustainable practices, as well as committing to targets that meet and go beyond government guidance for a sustainable future. Hillbrush has generated 20% of its energy this year through solar panelling, has been awarded 'Certificate of Environmental Achievement' by Perry's Recycling and this year was featured in Lloyds Banking nationwide road to net zero campaign.