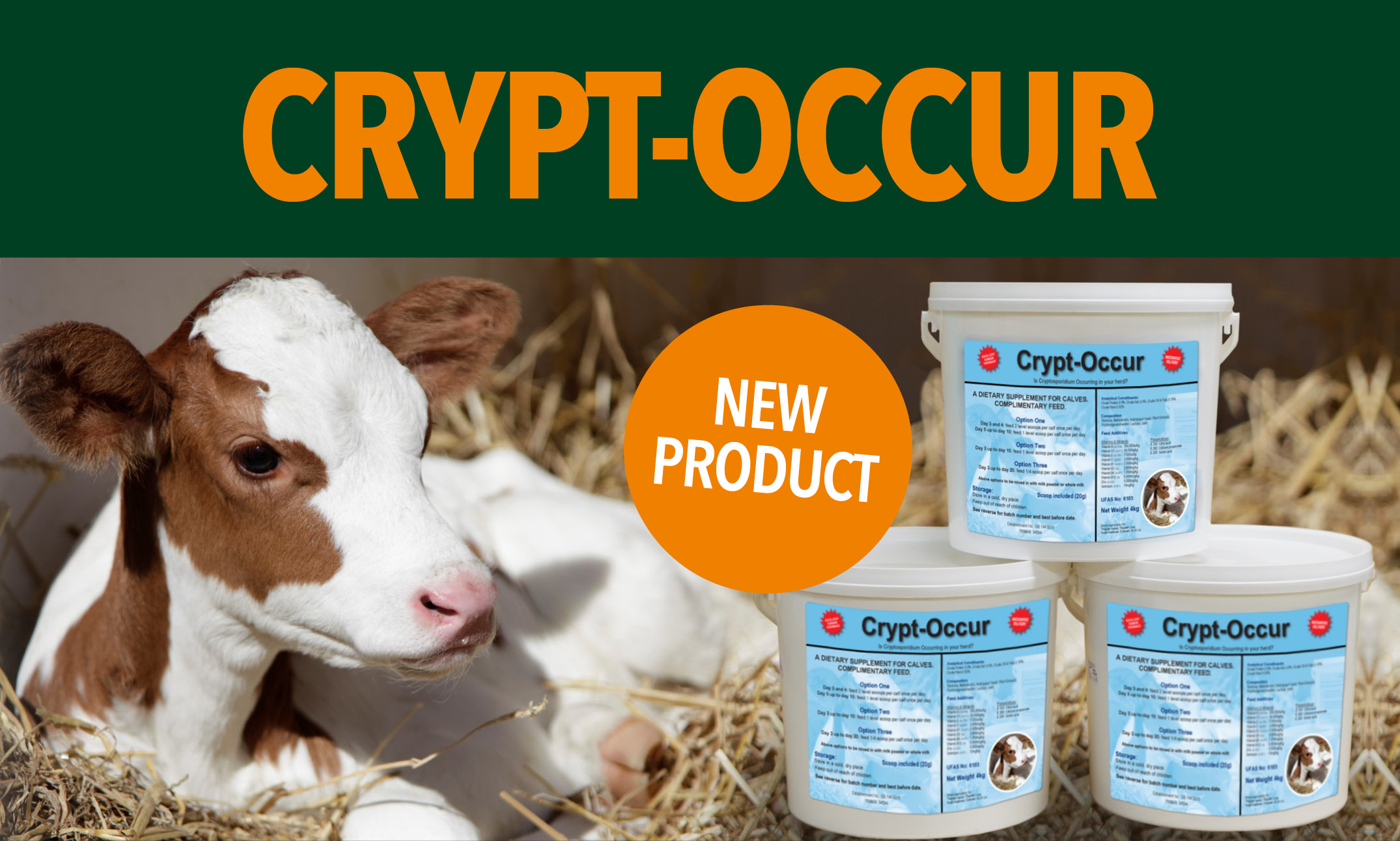 Cryptosporidiosis – What is it?
Cryptosporidiosis is a disease caused by a very tiny organism, the size of a red blood cell. The calf swallows the crypto, it is in cow manure. Manure on the cow's teats or from the environment provides the source. The crypto organism burrows into the wall of the calf's gut and incubates for approximately 48 hours, then it erupts into the lumen of the gut. Half of the organisms are released to contaminate the environment, whilst the other half dive into the lining of the gut and start incubating again. If the calf eats one crypto organism on day one, it becomes one million by day eight. Crypto is auto-infective; once it is in the calf's body, it does not have to pass out of the calf in order to reinfect it. 
The Crypt-Occur Solution
Crypt-Occur for calves, which contains powerfully selected plant extracts, blended salts, hydrolysed yeast, specialist pre-biotic and a high antioxidant immune package is highly effective in enabling the calf to speed up its immune response against Cryptosporidium. The carefully selected ingredients provide a hostile environment for the parasite to live in, improves gut wall protection, and reduces asexual reproduction resulting in greatly reducing the number of oocysts that can physically attack the intestinal wall of the calf. The calf needs a gradual exposure to the parasite to build its own immunity against it whilst not being too over-loaded and Crypt-Occur allows this in a more natural way.
"Crypt-Occur is an excellent product and I would thoroughly recommend it. It is easy to use and the recovery rate in calves is quick. If used in the early stages of crypto it is far more effective than any other product we have previously used. It is an essential product in our calves care routine"
Janet Elliot, Henscott Barton, Holsworthy, Devon
"We have had problems with crypto for years but never found anything that worked. However, after using Crypt-Occur for nearly two years now, I wouldn't hesitate to recommend it. Scours are no longer an issue and the calves are growing on really well. The calves responded very quickly to the product"
Andrew Nicholls, Trewindle Farm, Lostwithiel, Cornwall
Looking for more information? Talk to John our Animal Health Expert – 07717 574221