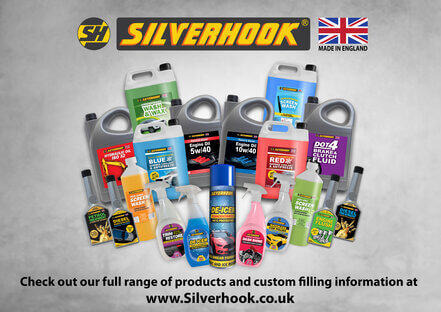 Silverhook are one of the largest independent manufacturers of automotive lubricants, oils, and chemicals in the UK. Silverhook was established in 1994 and has gained a reputation throughout the automotive industry for providing quality products and an exceptional standard of service.
Products we are currently able to fill & blend:
Engine Oils & Lubricants.
Winter Lines – BS6580 Coolants & Antifreeze, Screen Wash, Radiator Flush & Sealant, De-icers.
Additives - Petrol, Diesel & Injector Treatments, Diesel Particulate Filter Cleaner.
Radiator & Transmission Stop Leak, Oil Stop Smoke & Treatment.
Maintenance - Brake Fluid, Grease, Brake & Clutch Cleaner, Maintenance Fluid, Deionised Water, Power Steering Fluid.
Valet - Wash & Wax, Polish, Colour Restorer, Cockpit Shines, Trim, Wheel & Upholstery Cleaners, Tyre Wax, Rain Away.
Sanitisers- Hand Cleaner, Surface Sanitiser & Sanitising Gels.